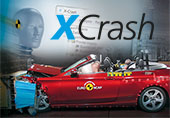 (Moenchengladbach, 22.02.2021) Version 1.4.1 of the X-Crash Zero software for evaluating advanced driver assistance systems (ADAS) in modern motor vehicles has been released. Extensive enhancements with analysis support for new test scenarios and the new feature of dynamic graphical display of the test result set new standards in the evaluation of the safety of driver assistance systems.
The software for analyzing tests for active safety systems in the vehicle such as lane and emergency brake assist, which was first released in 2019, receives extensive support for further global standards with this update to Euro NCAP.
For example, full support has now been implemented for the CCR and VRU load cases developed by the American non-profit organization Insurance Institute for Highway Safety (IIHS). Similarly, CCR, VRU and LSS analysis routines have been developed for the Japan New Car Assessment Programme (JNCAP) version 2020.