Evaluations and reports according to current standards
Single tests and entire test series are evaluated with X-Zero according to current laws and consumer protection specifications and can be flexibly compared with each other. The standard package contains an extensive evaluation library that is continuously updated and can be conveniently supplemented.
The evaluation processes are largely automated and thus meet the highest demands on test reproducibility. For fully automated analysis, the evaluation can be controlled via a process database, for example.
Included standard evaluations
Right from the start, the evaluation library contains a large number of predefined evaluations and reports according to international regulations, laws and evaluation methods for active vehicle safety, such as those of Euro NCAP, USNCAP, CNCAP, JNCAP, IIHS or C-IASI.
Future Proof
Evaluations for the vehicle safety assistants for the safety of pedestrians and cyclists required by Euro NCAP for a finnally 5-star rating.
Consideration of AEB Head-on, Automatic Emergency Steering AES and Child Presence Detection necessary.
Consideration of systems such as V2X, which must be available in new vehicle types from 2024.
It couldn't be easier: Adding your own macros
In addition to the provided analysis algorithms, project- and customer-specific macros can be created without special programming effort via Visual Basic Script (VBS) or DIAdem functionality and added to the macro library.
The macro library is clearly organized: The standard area with the supplied analysis macros is maintained by measX, while the company, project or user area is organized by you. Here you can store both your own macros and standard macros, however you wish. Special analysis macros can be assigned to each test type as standard.
Report layouts as desired
Whether as a graphs or numerical data, the analysis results are presented in clear reports with cover sheet, table of contents and results summary. You can make use of proven standard layouts or implement special wishes in custom layouts. Numerous formats, such as PDF, PowerPoint, PNG, JPG and EMF, are always available for outputting reports.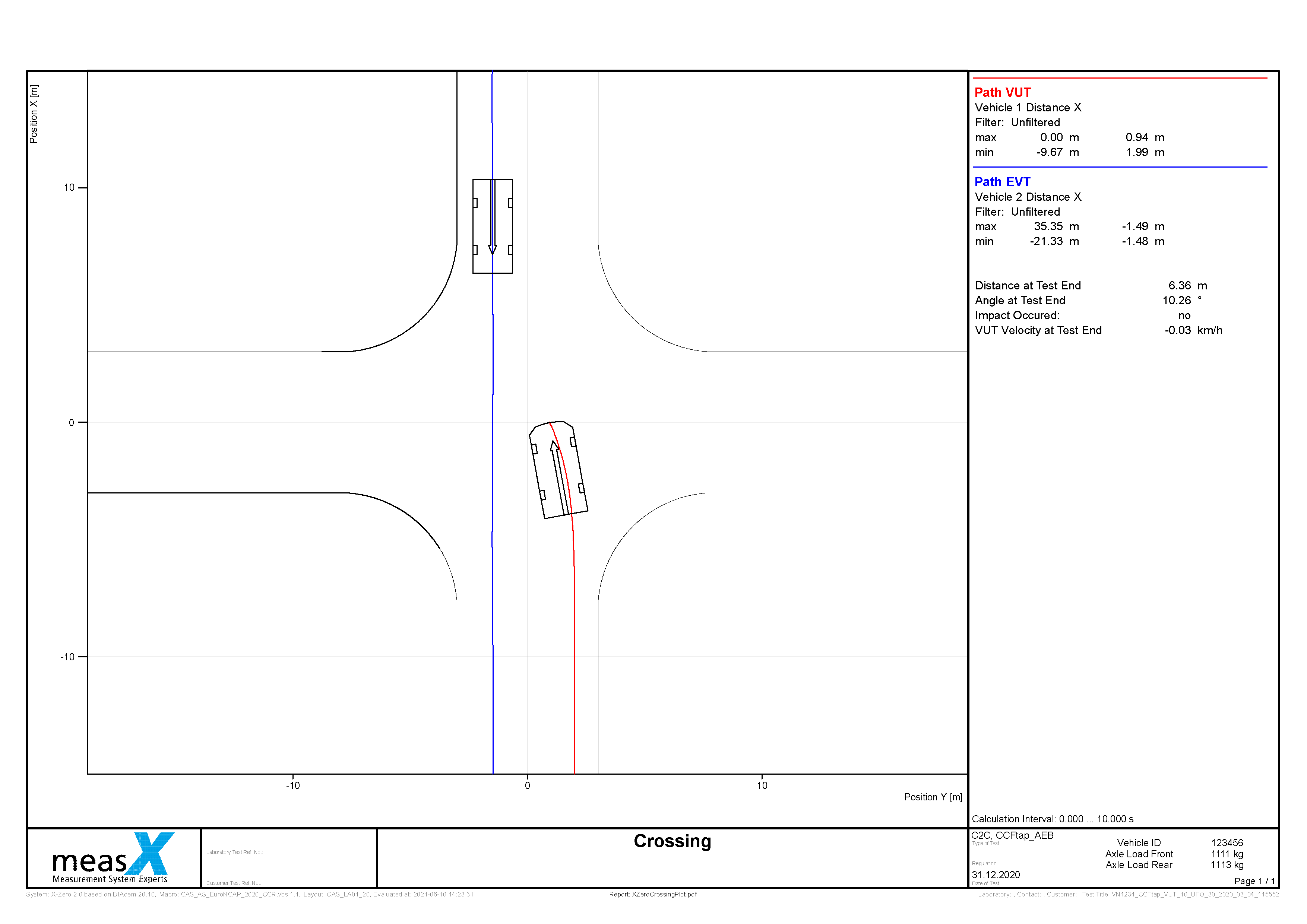 Graphics of test situation shown in the generated report