DASYLab 2020 available for download: Great demand for new Version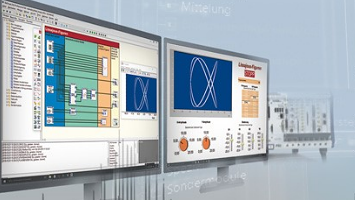 As planned, DASYLab 2020 was launched on November 14, 2020, and the major release of the popular measurement software was met with an immediate response. The current version offers a multitude of new features that optimally support the requirements of measurement and test engineers and make their daily work even easier.
"Multi-Monitor" at the request of the DASYLab community
The highlight among the new functions are "multi-monitor layouts": operating and display elements for a measurement application can be displayed on up to 16 screens in parallel. High-resolution screens are now also supported.
"The possibility of using several monitors at the same time was an often expressed wish of the community. However, the implementation required similar profound changes in the source code as the fundamental conversion of internal structures for DASYLab Version 2016," explains Heinz Rottmann, Head of Development at DASYLab. First positive feedback on the multi-monitor function was already received at the measX Technology Days in September, at which the DASYLab developers presented future program innovations.
Seamless integration in industrial 4.0 applications
The solution of complex inspection tasks in the "Internet of Things" and the necessary process monitoring are now directly supported by DASYLab. Two new modules for "writing and reading" implement the communication with MQTT-based measurement brokers. For example, characteristic values and test results can be monitored live at a central location or environmental conditions such as room temperature or humidity can be made available in a dashboard.
Update cheaply by the end of 2019
Subscribers to the Standard Service Program (SSP) for DASYLab always have access to the latest version and receive comprehensive technical support. Users of older DASYLab versions can upgrade their program to the current DASYLab 2020 version until the end of this year. Detailed information about your update can be obtained from your DASYLab dealer or directly from us. Here you can request the Update 2020 directly.
Software Download DASYLab 2020
General Information about DASYLab