Electric Motors under Load: Heating and Characteristics Curves Measurements at Metabo
Project: Test rig for heating and characteristics curves measurements (PEK), Metabowerke GmbH
Area: Elektro Powertools Development
Requirements: Renewal and automation of a test rig for thermal tests and power measurements on electric machines
Implementation: Several Hardware, cRIO-9035 by NI
Programming System: LabVIEW-RT, Evaluation Software: X-Frame
Drilling, cutting, grinding, milling, sawing, screwing. The name Metabo stands for extremely robust power tools for professional applications. The traditional company with its own development and production in Germany uses an individually adapted test system from measX for load tests.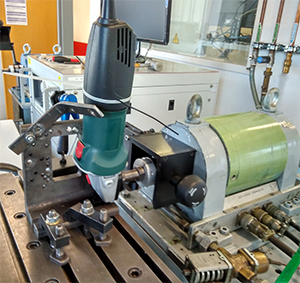 Test table with test item and reused vortex current brakeFor the sizing and validation of the motors, data on heat dissipation and performance curves are necessary. The original mounted devices are tested with varying loads, supply voltages and operating modes. In addition to currents, voltages, speed and torque, winding heats, electrical input power and mechanical output power are recorded. The existing test rig was to be replaced by a new, widely usable measurement and test system with convenient visualization and logging functions.
measX realized the complete test stand including new measurement technology, control cabinet construction, automation system and evaluation software. The test table for fixing the test items and the vortex brake for simulating the loads will continue to be used. Data acquisition, speed/power control, sequence control and the calculation of the power values are performed in the automation system. External power measurement technology can be dispensed thanks to fast, synchronous acquisition of current and voltage values.
Users conveniently configure individual measurements and the overall test sequence via an editor. For predefined test steps, only the test-specific parameters - input power, outgoing mechanical power, current, voltage and torque - need to be entered. Integrated evaluation functions automatically generate user-configurable diagrams, protocols and test reports.
With the PEK laboratory test rig, Metabo has a solution that is optimally tailored to its requirements. Almost any test setting is possible for a wide range of test items. Clear protocols and graphics allow the evaluation of measurement and calculation results already at the test stand.
An expansion of the test field is planned, and the X-Frame evaluation application is also to be used more widely to provide even better support for development and quality assurance