Statistical evaluation of end-of-line tests
Customer: DEUTZ AG
Area: Automotive industry / production
Requirements: End-of-Line test for 200,000 DEUTZ engines/year
Implementation: measX software X-Frame in connection with the DataFinder Server Edition from National Instruments
Taking advantage of existing potential
The Deutz Evaluation Tool (DET) is used successfully not only for the analysis of engine testing data but also for the evaluation of end-of-line tests – one example of the cross-departmental use of universal software systems.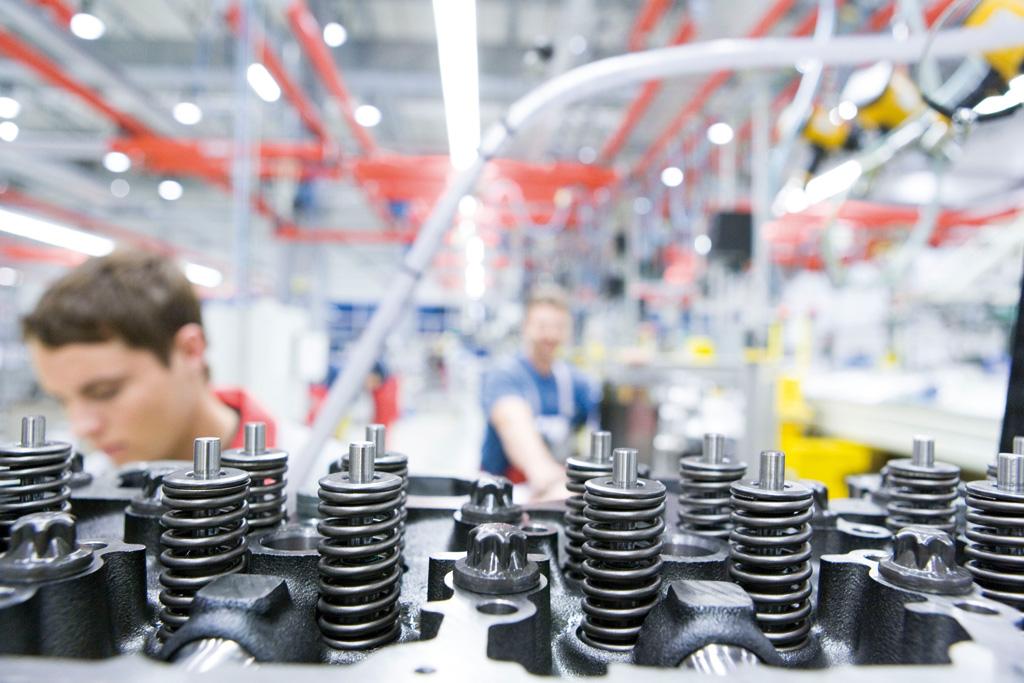 DEUTZ AG is one of the world's leading manufacturers of diesel engines for commercial vehicles and motorized equipment. Before any engine can be shipped, it must pass what is called the hot test. It is supplied with diesel, cooling water, oil and air on the test bench and then started. Extensive measurement data is then collected at defined, characteristic operating states. These form the basis for the acceptance and engine-specific customer documentation. This data is also used for identifying statistical abnormalities that can indicate irregularities in the production process or problems with part batches.
Recently, the quality engineers have begun using the Deutz Evaluation Tool (DET) for this, which was originally developed in cooperation with measX for the DEUTZ engine testing facility. DET has become the central data management and analysis system here, and it is used by over 70 engineers working on a variety of teams. "Above all due to its high flexibility, it was worthwhile to consider whether DET could also be used to optimize the statistical analysis," says Michael Röbel, Head of Process Technology and R&D Investments and one of the analysis program supervisors. "Integrating with existing solutions and individually adapting and expanding these, that is precisely the philosophy of our development platform X-Frame, on which DET is also based," confirms Martin Winkler, head of the Test Data Management department at measX.
First, a feasibility study was carried out, which was so successful that a green light was immediately given for expansion of the tool. The immense time savings in daily work compared with the previous Excel-based analysis was a particularly decisive factor. The implementation took place in close cooperation between measX, the DEUTZ Process Technology & IT Processes department, the IT department and the future users. "It was very important to us to bring the quality engineers on board directly," says Martin Winkler.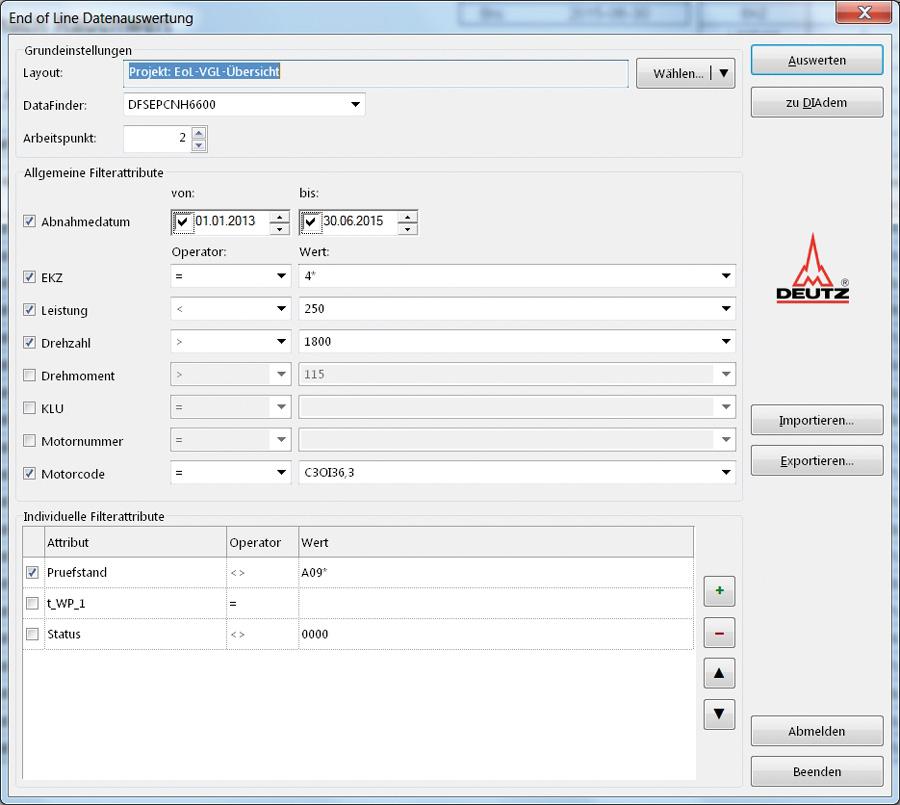 Improved data management
The core of the DET system is the development platform X-Frame in conjunction with DataFinder Server from National Instruments. Newly obtained raw data is now automatically exported from SAP every night and saved on a central server. DataFinder Server monitors these directories and promptly builds a table of contents for all data records, including the associated descriptive information. Previously, it took several hours just to make the raw data available. Now the request times are often as short as a few seconds, sometimes a few minutes," says a pleased Thomas Plum, who is responsible for acceptance inspections of series engines in DEUTZ R&D, among other duties. Over 450,000 individual files are now maintained on the data server.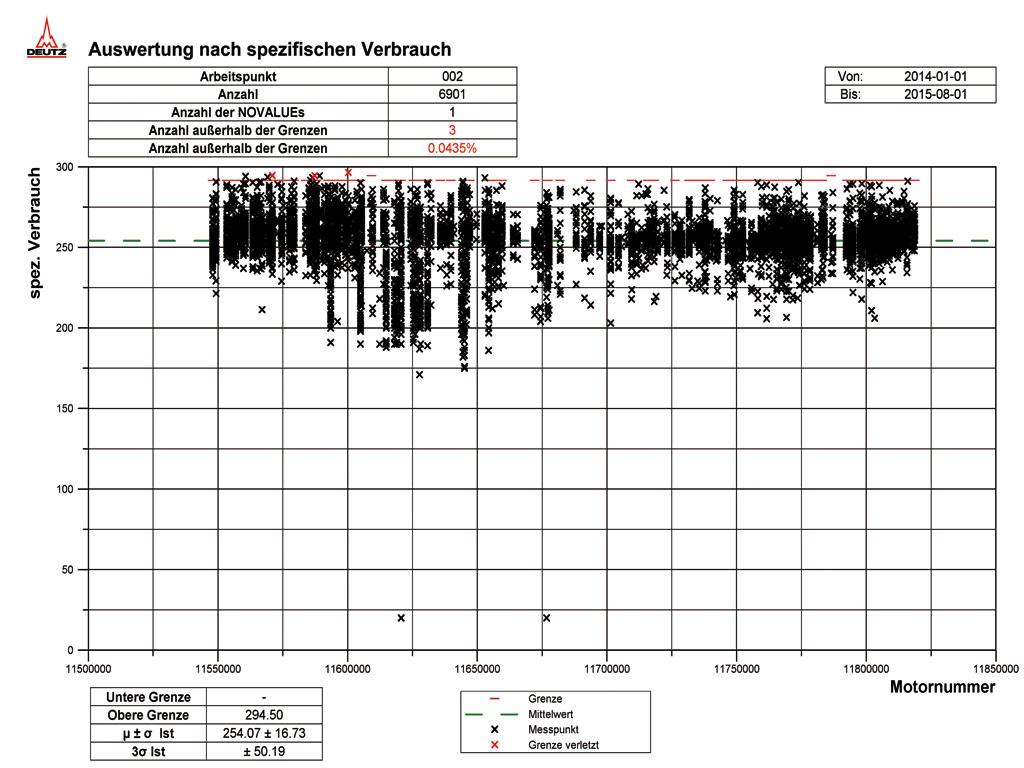 Flexible data selection
In order to carry out differentiated analyses, the engineers require maximum flexibility in selecting the data to be used. The central user element for this is a dialog that allows a number of filter attributes to be set. The operating point is a primary criterion here: this is a state with defined speeds and loads at which the characteristic properties of the engines are studied. In addition, it is possible to filter by all other stored, descriptive measurement attributes, for example by engine model, nominal speed, nominal power, nominal torque, engine number or engine code.
Another major wish of the users was also fulfilled: During data selection, they can now also limit the time period to be considered. "All settings can be saved and loaded again at a later point in time. Frequently used criteria have been integrated as fixed parts of the input dialog," explains Martin Winkler. After the filters are selected, the desired measurement values for the selected operating point are loaded from all corresponding measurement files, and these values are merged into a channel that can be further processed in DIAdem.
Open for new requirements
As a universal analysis application, DET already offers a large number of report layouts. A special layout was added for statistical evaluations that the users can individually adapt to new evaluation ideas. This option is heavily utilized, reports Michael Röbel: "In addition to various graphical display types, informative statistical values are now also defined and used for numerical evaluations."
After the roll-out, the acceptance of the new analysis tool was immediately very high because it simplifies the daily work of the quality engineers enormously. And it isn't only standard analyses that can now be carried out very quickly. Even special, urgent questions can also be answered quickly. For example, if it is suspected that a measurement device on a specific test bench is faulty, this can be confirmed immediately. A large number of measurement values are recorded for each engine. The potential that lies within this data is now comprehensively utilized in order to secure the quality of the DEUTZ products and processes.