Central data management and uniform analysis system
Customer: Bosch, DS/NE-Engineering Diesel Systems (DS) division in Stuttgart-Feuerbach
Area: Diesel engines
Requirements: Data management for 17 engine test benches and 4 roller dynamometers
Implementation: measX software X-Frame in connection with the DataFinder Server Edition from National Instruments
New management paradigm for measurement data
A plethora of test data exists for modern development processes. In order to make optimal use of this data, a new data management and evaluation system was developed for the "System Development & Development Services Diesel Systems" division at Bosch.

Many terms are used extensively without being firmly defined. Big Data is definitely one of these. But with all the different ways this term is used, there is one common denominator: It is always about extensively analyzing large quantities of data from diverse sources. On this basis, one seeks to improve company processes and secure competitive advantages. To this extent, Big Data is also a topic for development departments in the automotive industry. "As a result of technological advances, ever increasing quantities of data are collected and stored by our customers. One of our main jobs is to establish the conditions under which the information hidden in this data can be optimally utilized," explains project manager Stephan Neuhausen from the Test Data Management department at measX.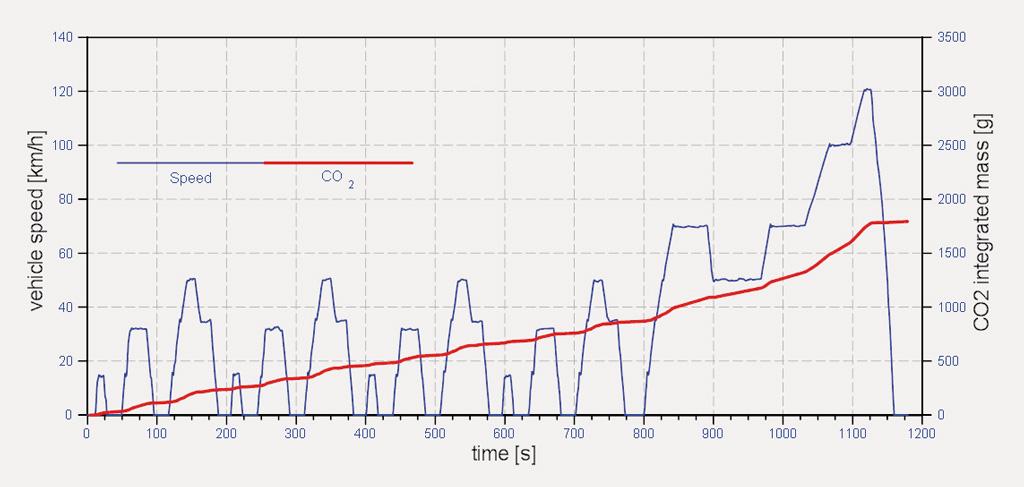 One current example is the new analysis system for the DS/NE-Engineering Diesel Systems (DS) division of Bosch at the Stuttgart-Feuerbach site. Here, a team of roughly 600 engineers develops components and systems for diesel engines. This division is focused on vehicle and engine system development as well as services in the design and application of engine, exhaust and injection systems for both consumer vehicles and commercial vehicles.
Day after day, many gigabytes of measurement data required for complex analysis tasks is produced on 17 engine test benches and 4 roller dynamometers as well as countless road tests. "In the face of constantly rising requirements, it was necessary to shift the sometimes highly specialized analysis tools onto a uniform software basis and to optimize them so they could continue to live up to the demands of all systems and conditions in the future," says Angelo Esser, team leader in the area of Engineering Vehicle Application, recalling the start of the cooperation with measX.
"The tool basis we had at the time was bound to run up against its limits eventually. In particular, qualified support would be unavailable in the future for some third-party applications." In a detailed evaluation of the problem and associated requirements, the experts of measX put the entire process – from provision of the data to the final evaluation – under the microscope.
Restructured data storage
The retention of and access to measurement data has undergone a fundamental reorganization, and a central data management system has been introduced. The data was previously saved at different locations: Depending on whether stationary or dynamic tests were performed, the data from the engine test benches was either saved in the test database or directly on the test facility's central server. However, this is only where the actual test bench data was saved and not the engine control data (INCA files) recorded in parallel and the data recorded during the engine test by external measurement instruments. These were saved locally or in project directories. The dynamometers provided no direct access to databases and directories, rather the data was provided on a transfer volume upon request. "This kind of local data storage, where every user has to compile their data on their own computer, is extremely common," says Stephan Neuhausen. And Angelo Esser confirms: "Obtaining the data was a significant daily time factor for our engineers." In addition, redundant data storage required an unnecessarily high amount of memory space on local computers as well as on the department servers, if the data was copied back there.
All raw data from the test benches is now automatically forwarded to a central volume. Data from the engine control systems and external measurement instruments is also copied to this location, together with the films, images and reports relating to an engine or test.
DataFinder Server plays a key role
In the past, a major problem was the lack of meta information related to a test in the measurement file. This also describes the sample that was used for testing and the specific parameters that were set. Meta data is required in order to clearly identify the collected data. "This issue is similar to that of a private photo collection. If I do not indicate where I took a photo, what or who is on it, or the camera settings I tested, I will not find the photo when I subsequently search for it based on these criteria. This is the same with test data," clarifies Stephan Neuhausen. Yet, measurement data is often saved without information or with only a small amount of descriptive information.
At Bosch DS, everything is now well setup: The data from the engine test benches and dynamometers is exported to the central volume together with all existing metadata so that "everything is now always together in one place," praises Angelo Esser. The National Instruments TDMS format was selected as the file format, so that metadata and user data can be combined in a file and easily read by a large number of tools. The central volume is indexed by the National Instruments DataFinder Server. This regularly searches through all files in the directories and saves the descriptive information in a separate database. Even complex search requests are quickly completed. "DataFinder Server is a powerful data management tool. It is also nice that it is easy to configure and that the support costs are extremely low, in contrast to other database solutions," says software developer Neuhausen.
A tool for all circumstances
The local data organization in combination with DataFinder Server forms the basis for the new, universal evaluation system iDA (integrated data analysis system). "This system is intended to replace a range of existing tools and to be used as the primary tool across projects and departments in the future," says Angelo Esser, who supported the Bosch iDA project.
A large number of different tools were previously used, including three internally developed tools based on UniPlot, each with separate operating concepts. The iDA system not only provides a uniform user interface for all evaluations, it also standardizes the required calculations and the layout of the result report. This means that iDA will not just provide all the functionalities of the old system, but also perform tasks that could not previously be provided.
The software is based on the measX development platform X-Frame and can be flexibly adapted in order to individually support the test engineers. In addition to the mathematical and graphic evaluation, various data processing functions are also available. "For example, it is normal for a time offset to exist between the channels from the test bench and those from the engine control system, which requires subsequent synchronization. This time offset, or even different scanning frequencies, are easy to synchronize in iDA," explains Stephan Neuhausen. The mapping function also provides additional convenience: Typically, uniform names are used for measurement values as part of evaluations and formulas. However, it can also happen that different names have been used for a measurement. In this case, channel mapping "translates" the names into the right name so that the data sets can be uniformly analyzed (learn more on page 13).
Bosch specified around 50 evaluations at the start of the project. The majority had already been implemented as part of the iDA project, and a comprehensive formula library was created, which is used across departments. Bosch engineers also develop some evaluations internally. "This is a great advantage of X-Frame. The system is easy to extend, a great deal takes place via parameterization. Our users do not have to have extensive programming knowledge," says Stephan Neuhausen, who helps with complex issues
and will continue to provide support. "The next step is the replacement of the old tools and extensive training measures," explains a pleased Angelo Esser, who is hoping for a high level of acceptance amongst the just over 200 users. The use of iDA beyond the Feuerbach location is also planned. The requirements for this are in place.
---
Download X-Press with the report as PDF (German)