After audit: TÜV Rheinland re-certifies measX according to ISO9001:2015
(Moenchengladbach, Januar 20, 2023) The quality system at measX is regularly audited according to ISO9001:2015. Now a complete re-audit was carried out.
This happened this week with a new auditor and again on site. The auditor certified that the system works very well and praised the detailed project tracking and the tool developed in-house for this purpose.
After the pandemic, the regulations and safety guidelines are now also returning to normal and so the audit could be carried out completely on site. In the usual manner, the quality system was checked for function in all areas through interviews and inspection. Based on the existing documentation, the auditor was able to familiarize himself in detail and prepare the work well on site.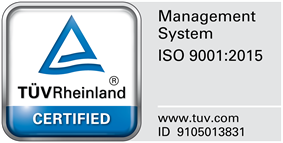 Dr. Joachim Hilsmann, Managing Director of measX, was also very satisfied: "This time was special in every respect: Both at measX and at TÜV, the contact persons changed, so you never know what to expect, and then it was also a major audit. Personally, I am very pleased that we were able to successfully hand over quality management at measX from father to daughter. At this point, I would like to thank Hermann Bierewirtz on behalf of the company and also personally, who held this position for many years and is now entering a well-deserved retirement."
The new certificate is valid until the end of January 2026.