Update for X-Crash at SafetyWeek

(Moenchengladbach, 27.08.2020) As a leading provider of software for the evaluation of vehicle safety tests, measX GmbH & Co. KG will again be actively participating in this year's SafetyWeek in Würzburg (September 1 to 3).
measX will be represented with its own booth and will present the latest innovations of the X-Crash software programs for passive and active vehicle safety. At the accompanying SafetyTesting Conference on September 1, Denis Rudolf from measX will speak about the challenge of keeping up with the ever-changing, complex test specifications, standards and regulations. Due to corona-related travel restrictions, the SafetyWeek also offers the technical presentations as a live stream, thus enabling experts from the vehicle safety industry to exchange information virtually.
Three programs from the X-Crash product family will be released in updated editions at SafetyWeek. Version 7.3 of the globally established analysis software for passive vehicle safety, X-Crash, is now available. In addition to minor adjustments, the update offers a revised module for the MME 2.0 data format and a large number of updated and new NCAP evaluations (New Car Assessment Programme).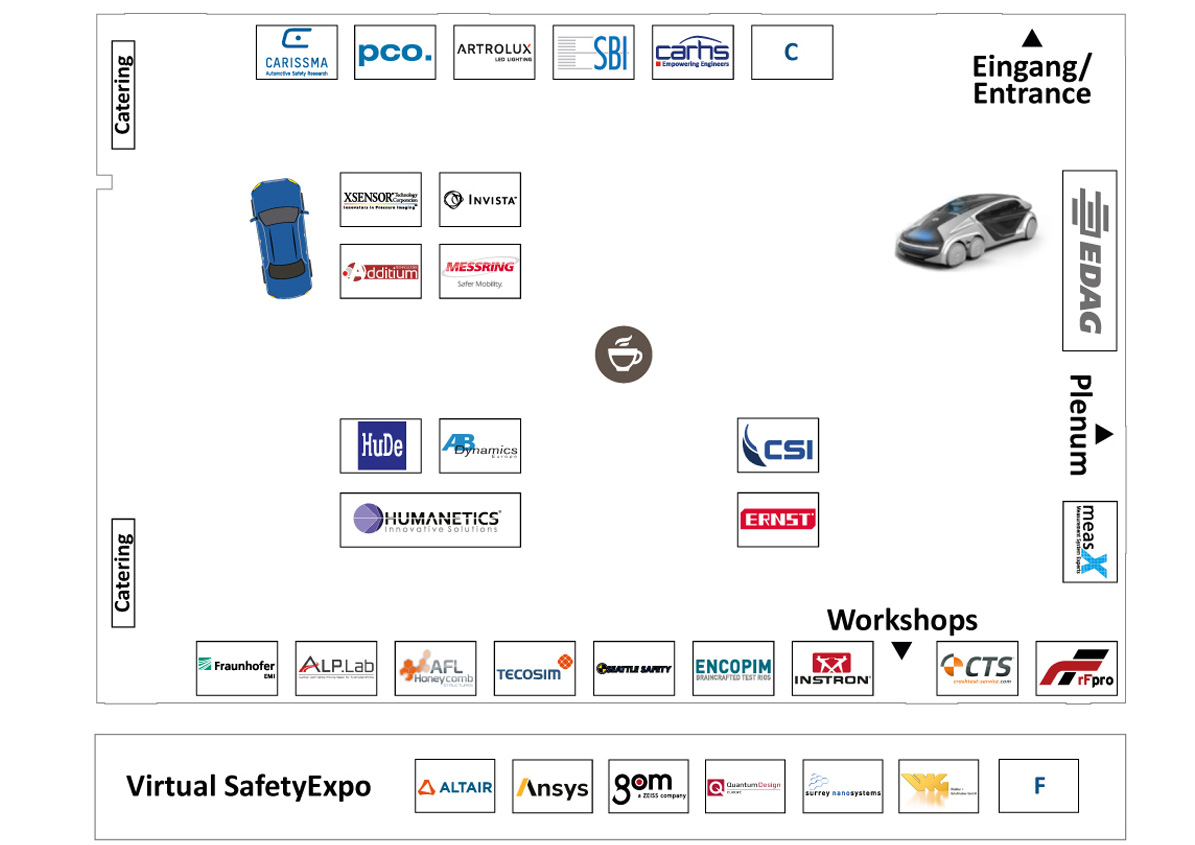 floorplan safetyexpo2020
The X-Crash Zero software is specialized in the evaluation of tests for active vehicle safety. Since its successful launch last year, X-Crash Zero has been continuously developed further. Version 1.3 fulfills the extended requirements of Euro NCAP and US NCAP and has been supplemented by test regulations for Korean NCAP.
The software X-Crash ATD for dummy certification is now available in version 7.2 and offers updates as well as completely newly implemented evaluations.
"Reliable, efficient testing places high demands on the evaluation software," says Denis Rudolf from the X-Crash team. "The difficulty for globally operating automobile manufacturers is that new international test regulations are constantly being added. We see it as our task to provide orientation, to consider future requirements as early as possible and to transfer them into evaluation algorithms". At the SafetyTesting Conference, Denis Rudolf will give a presentation on this topic entitled: "Orientation in the jungle of standards - Beneficial strategy for analysis and reports" (September 1, 02:00 pm).
Meet us at the SafetyWeek. Whether live at place or virtuell – webarev glad to see you.
SafetyWeek
1. - 3. September 2020
Vogel Convention Center, Würzburg
SafetyTesting Konferenz
1. September 2020
2:00 pm: Dr. Denis Rudolf, measX: "Orientation in the jungle of standards - useful strategy for analysis and reports