Quality seal in a double pack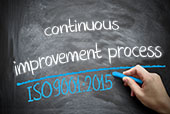 (Mönchengladbach, 19.02.2020) The measX GmbH & Co. KG, specialist for test bench technology and test data management, has again received two certificates for extraordinary quality after successful recertification audits: the international certification ISO 9001:2015 for quality management and the seal of approval "Sicher mit System" of the "Berufsgenossenschaft Handel und Warenlogistik (BGHW)" for safety management.
"With these two certificates we can additionally demonstrate to customers, partners and employees our comprehensive claim to quality and reliability", says Dr. Joachim Hilsmann, Managing Director of measX.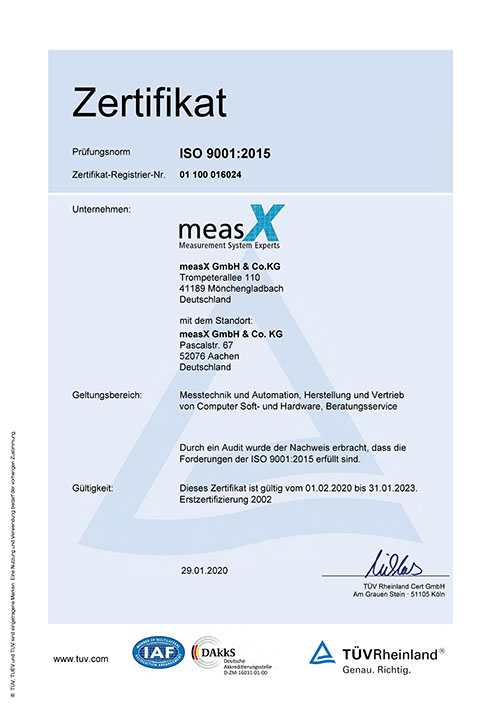 measX implements innovative test systems, data management and evaluation solutions for customers from a wide range of industries. The company receives the ISO certificate for the seventh time in a row. The audit according to the current international quality standard ISO 9001-2015 confirms that the highest quality standards are lived out at the two company locations Mönchengladbach and Aachen. The quality management system is continuously developed further in the sense of customer orientation. Newly implemented documentation processes and an expanded quality performance indicator system increase transparency and offer further security.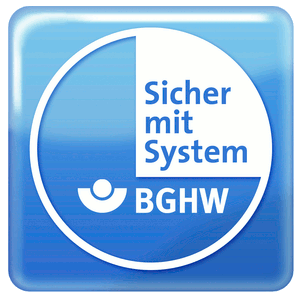 The quality management system is supplemented by a special management system for occupational safety. This commitment has already been awarded the "Sicher mit System" seal of approval by the BGHW in the year <year. The renewed assessment certifies that safety and health at work are still guaranteed throughout the company and in particular in our own workshops. Measures include regular safety drills, the inspection of all electrical equipment and tools in accordance with specified standards and the training of employees as first-aid and fire-fighting personnel.
"The well-being and safety of our employees is our top priority. This not only applies to occupational safety in the narrower sense. We specifically promote sport and a healthy lifestyle with voluntary health checks, sports activities, company bicycles and, last but not least, flexible working time models," emphasizes Managing Director Dr. Joachim Hilsmann.
The "ISO9001:2015" and "Sicher mit System" certificates are valid for a further three years until the end of January 2023.