DASYLab – New hardware by Labortechnik Tasler, DEWETRON, and OptiMEAS supported
DASYLab the "Easy-to-use"-Software to measure, vizualize and process measured data supports now new devices by Labortechnik Tasler, DEWETRON, and OptiMEAS.
After the support for programmable logic controllers (PLC) was integrated in DASYLab this year, the driver library has been expanded once again. All user of those systems are now enabled to create easily measurement, control, and evaluation tasks without any programming knowledges.

Hardware drivers for the LTT24 high-performance measuring system from Labortechnik Tasler are now available and the DEWE2 series-compatible, high-resolution TRIONTM modules 1620-ACC and 1620-LV from DEWETRON have also been added, as well as the smartMINI data loggers from optiMEAS is added as a very compact device for mobile data acquisition.

As usual, the integration of the measurement hardware into DASYLab takes place via specially developed driver modules that support the configuration and control of the hardware. Captured measurement data can be transferred directly to DASYLab and processed flexibly, for example using filter modules or as part of a complex testing application that is implemented with the State Machine module from DASYLab. With these drivers, the entire range of functions is available for the development of measurement and test tasks.

"DASYLab is used worldwide in a wide range of applications, because measurement applications are realized graphically and interactively without any programming knowledge - we therefore speak of the Swiss Army knife of the measurement technician." With the new drivers, we open the door to the world of DASYLab for other users, " Heinz Rottmann says , Development Manager at measX, the main distributor of DASYLab.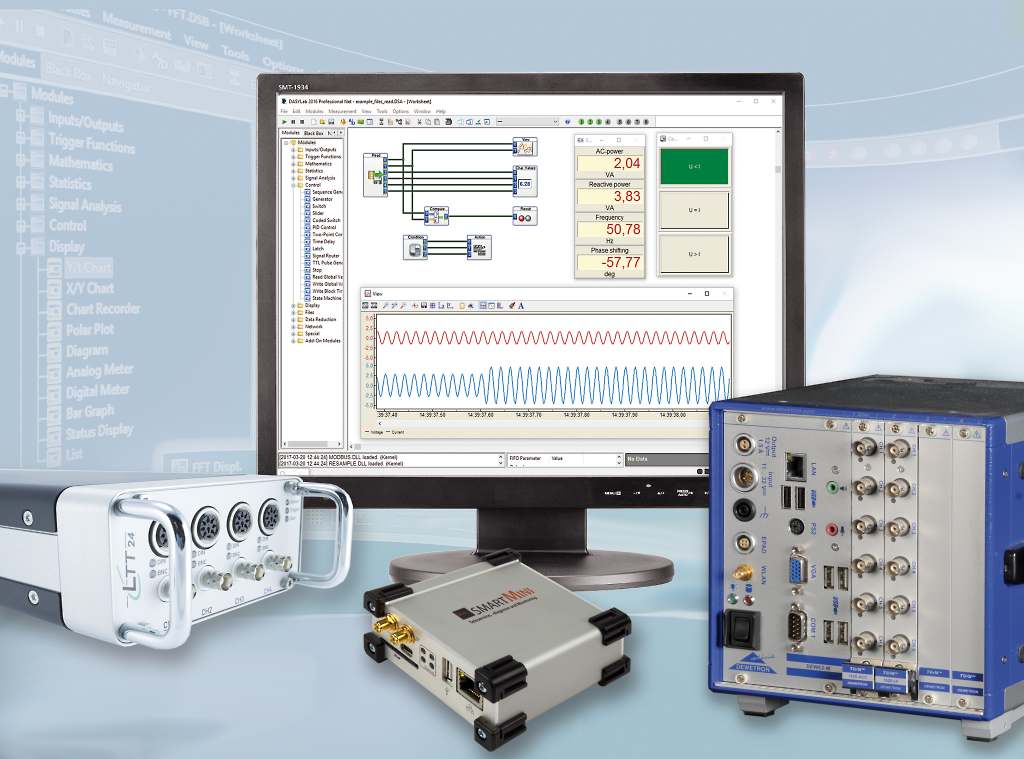 DASYLab supports new hardware from Labortechnik Tasler, optiMEAS and DEWETRONThe LTT24 measuring system from Labortechnik Tasler combines high sampling rates and high bandwidth 24-bit resolution. Thanks to integrated sensor supply voltages, the device is compact and flexible in use. A popular application is the power measurement of electric motors, since only these high-resolution measurements provide the necessary precision.

The user-replaceable TRION™ multi-channel modules provide analog-to-digital conversion on each channel and can be used with any DEWE2 series measurement system. The simultaneous sampling and the 24-bit resolution with integrated anti-aliasing filter now make them even more valuable in combination with DASYLab..

The smartMINI device series from OptiMEAS offers interfaces to CAN channels, GPS and LTE and is used for web-based data logging and distributed IoT applications. Due to the integration of the devices in DASYLab, the benefit at the test bench with subsequent preparation and evaluation of the data has been significantly increased.

DASYLab also offers hardware support for programmable logic controllers (PLCs). Especially for this application, the DASYLab SPS Edition is available, which has been developed for the analysis and fault diagnosis of PLC systems. But the developed driver module to establish the connection to a PLC is also available separately and therefore useful for every DASYLab user with a PLC topic.
More Info: