measX with SUFEHM Workshop at SafetyWeek 2018
SafetyWeek, May 15-17th, offers the great opportunity to catch up on innovative products and solutions as well as current trends in the area of car safety. measX will present the current version 6.4 of X-Crash.
With X-Crash the new head criterion SUFEHM can directly be calculated. The creator of SUFEHM, Prof. Dr. Rémy Willinger, will give a lecture and a workshop about it.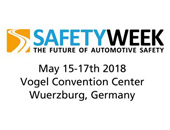 As the first crash evaluation software X-Crash offers a fully integrated solution for the calculation of the head injury criterion SUFEHM of Euro NCAP: X-Crash Advanced HIC.
To SafetyWeek measX invited Prof. Dr. Rémy Willinger, the creator of SUFEHM. Visitors will benefit from first-hand information and learn more about the new X-Crash feature.
Presentations and workshop, May 15th:
Specialist presentation "Application of Model based Head Injury Criteria in Car Environment" by Prof. Dr. Rémy Willinger, May 15th, 2.05 pm
Exclusive workshop "SUFEHM-Speech" with Prof. Dr. Rémy Willinger, May 15th, 3-5pm (only after advanced registration). Now save one of the 20 workshop seats!
Lecture "MOSES ADAS – The ADAS-scenario catalogue within planning, execution and evaluation" by Josef Eiswirt, measX, May 15th, 4.35 pm
During SafetyWeek our experts welcome you at booth 19.
We are looking forward to your visit!
SafetyWeek
May 15-17th 2018
Wuerzburg, Germany
More information about the SafetyWeek and registration: www.safetyweek.de
More information about X-Crash Advanced HIC ...>
More Information about X-Crash ...>