New Hardware Drivers for DASYLab 2016
The recent update of the Easy-to-use-Software DASYLab 2016 has had impacts on hardware drivers. Now the DASYLab 2016 drivers for the HBM-Measurement-Data-Acquisition-Systems QuantumX, SomatXR and MGCplus were refreshed.
Created to build own DASYLab modules the "Extension Toolkit" enables third parties to develop drivers which leverages the new features in DASYLab 2016. Add-on-Drivers, often implemented by the hardware manufacturer, are updated step by step.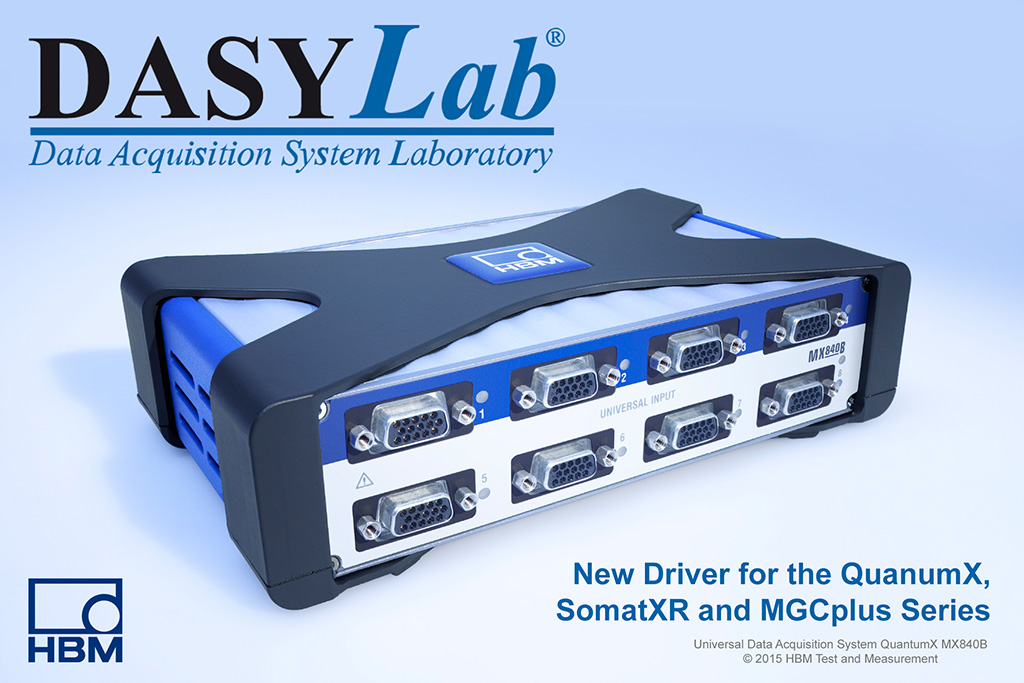 The Data Acquisition Systems QuantumX and SomatXR are used in mobile applications as well as in laboratory and test stand environments. All common physical signals like force, elongation, distance, weight, torque, voltage, current, temperature and many more are measured. Among other things this flexibility is the root cause why the distributed IO-System QuantumX in one of the most used systems world-wide. SomatXR is very popular due to its high ruggedness. MGCPlus is the number one in endurance tests in aerospace applications with high channel count. Combined with HBM Data Acquisition Systems DASYLab is becoming increasing popular.
To take full advantage of the new features in DASYLab 2016 the driver was reworked completely. Based on the HBM Common API .NET the Active-X components formerly used are now removed. Therefore the compatibility with operating systems has improved again. Some of the key features are:
Configuration of individual sampling rate per channel
Make use of Setup (channel names, units)
Compatibility: starting with DASYLab Version 10 and Microsoft Windows, Version 7 (32/64 Bit)
Mr. Thomas Markwitz (HBM): "The new driver for DASYLab 2016 integrates all measurement data acquisition systems created by HBM in the Easy-to-use-Software DASYLab – a new level of integration. We are grateful for this good cooperation and looking forward to lots of successful projects in the area of Test & Measurement."
Managing Director of Nehring PC Messtechnik Mr. Alejandro Nehring about this development: "The DASYLab Extension Toolkit simplifies development drastically. Together with the good documentation of the HBM Common API by HBM we could implement the driver quickly."