Development of test solutions in the area of advanced driver assistance systems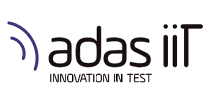 Four National Instruments Alliance Partners are pursuing a joint strategy for the development of testing solutions in the area of advanced driver assistance systems (ADAS) to help accelerate development programs for fully autonomous vehicles.
Radolfzell, Wangen, Troisdorf and Mönchengladbach, Germany, 21 March 2017. The companies Konrad Technologies GmbH, SET GmbH, S.E.A. Datentechnik GmbH and measX GmbH & Co. KG have established the cooperative project ADAS IIT - Innovation In Test and are utilizing their skills in the area of advanced driver assistance systems (ADAS), sensor fusion, hardware-in-the-loop (HiL), V2X communication, GNSS simulation and data management to offer single-source solutions for fully autonomous vehicles.
In the joint project ADAS IIT, the four technologically innovative companies are offering a unique approach to ADAS testing by pooling their knowledge and skills to develop highly scalable, future-proof ADAS testing solutions based on standardized platforms from National Instruments (NI).
The ADAS IIT group is the first consortium to combine cost-optimized, consolidated ADAS testing solutions for virtual test drives in connection with sensor fusion, HiL test systems, V2X communication, GNSS simulation and integrated data management systems. This unique concept based on NI platforms will contribute to bringing autonomous vehicles onto the market more safely and more quickly than expected.
"We are pleased that the open platform and ecosystem of NI enables the four ADAS IIT engineering companies to manage the increasing testing complexity of highly integrated, fully automated ADAS HiL test solutions encompassing sensor fusion and target simulation as well as V2X communication and GNSS simulation," says Rahman Jamal, Global Technology & Marketing Director, National Instruments. "The combination of our flexible software, such as NI LabVIEW, modular hardware platforms, such as PXI, and the extensive technical competence of the ADAS IIT partners ensures that our shared customers will receive the most modern technology possible to meet their needs in accelerating their research and development work on autonomous vehicles."
A unique undertaking in the area of fully autonomous vehicles
The outstanding expertise of Konrad Technologies GmbH in the area of ADAS sensor fusion, of SET GmbH in the area of HiL, of S.E.A. Datentechnik GmbH in the area of V2X communication and GNSS applications and of measX GmbH & Co. KG in the area of data management represent a complete, flexible toolkit from design and development to implementation, validation and production.
The companies have agreed to collaborate on the research and development of a seamless one-stop solution to make autonomous driving more predictable and safer – a solution that offers significantly more robust and higher performance architecture in the automotive industry and that will simplify and shorten the development work for automotive manufacturers.
"The demand for fully autonomous vehicles calls for efficient test systems, not only for RADAR and LIDAR but also for sensor fusion technology that synchronously combines the input from all vehicle sensors. We constantly strive to offer optimal solutions for testing sensor fusion systems that combine timing, trigger, validation and synchronization functions into a single package. The combination of these technologies with HiL, V2X and highly efficient data management systems will set very high standards in the automobile industry, and I am very pleased that ADAS IIT is at the forefront of this technological innovation." Michael Konrad, General Manager of Konrad Technologies GmbH
"Because real test drives are very time-consuming, require extensive test driver resources and are not be 100% repeatable, virtual test drives for the testing of today's sensors and sensor fusion electronic control units (ECU) are indispensable for the future of autonomous driving. For this reason, we are contributing our specialized knowledge of highly complex and innovative ADAS HiL testing solutions to the cooperation, and we are excited to be part of this leading collaboration." Frank Heidemann, General Manager of SET GmbH
"V2X will become an integrated component of future vehicles and ADAS systems. Testing along the development chain demands in-depth expertise in RF and V2X protocols as well as system interaction with other sensors, such as GNSS, RADAR and LIDAR. In consideration of these requirements, S.E.A. has decided to work closely with leading NI partners to offer state-of-the-art test systems and worldwide development support on the basis of new core competences." Dr. Gerd Schmitz, General Manager of S.E.A. Datentechnik GmbH
"The testing of multiple ADAS sensors as well as entire vehicles in real situations produces extensive data, which must be converted into information. measX, a long-time specialist in technical data management and the analysis of technical data, is very proud to be able to contribute its competence to the cooperative effort." Dr. Joachim Hilsmann, General Manager of measX GmbH & Co. KG
Cooperation: Details and timing
The collaborative project ADAS IIT – Innovation In Test will be established in the first quarter of 2017. It will be the leading partnership with a research and development infrastructure to enable the creation of complete ADAS testing solutions in a laboratory environment to replace the current validation and testing in real life.
After finalization of the cooperation, over 300 engineers in Europe, Asia and the USA will work on the next steps toward complete testing of fully autonomous vehicles in a virtual environment, from design and development to implementation, validation and production as well as service all around the globe.
The following companies are members of the cooperation:
Konrad Technologies GmbH is a globally active company that offers turnkey testing and production solutions in the areas of electronics manufacturing, high-frequency technology and optics. Since 1993, Konrad Technologies has successfully developed, designed and integrated customer-specific solutions that provide customers with tools to meet their quality goals and accelerate their engineering and development throughput in the areas of research and development, qualification and manufacturing of electronic products. As a National Instruments Platinum Alliance Partner, Konrad Technologies offers individual testing solutions, such as function tests, in-circuit tests, ADAS test systems, optical camera test systems and complete production lines for the automotive, medical technology, entertainment electronics, semiconductor and aviation industries.
SET GmbH – Smart Embedded Technologies
SET GmbH is an innovative technology company specialized in the development of semiconductor reliability testing systems, HiL and function testing systems as well as in the development and manufacturing of electronics for the automotive, aviation and semiconductor industries. As a Hardware-in-the-Loop and Embedded Specialty Partner of National Instruments, SET GmbH offers certified project management ranging from the definition of system requirements to the development and production of hardware, mechanical systems and software, including commissioning of the finished system. SET GmbH has grown continuously since its founding in 2001 and now employs over 45 employees at three locations of the parent company in addition to another roughly 40 employees at its subsidiary SET Power Systems GmbH (SPS).
For over 20 years, S.E.A. Datentechnik GmbH has offered sophisticated testing and control solutions for customers in diverse industries around the world, including the automotive, aviation and space industries. Based on the company's know-how in RF and communication, S.E.A. became a National Instruments Gold Alliance Partner in the areas of RF and Embedded Specialty. Within the scope of its RF activities, S.E.A. has been very successful in providing software defined radios and implementing protocols on the basis of NI platforms. The company recently successfully implemented a variety of 802.11p products as well as test systems and HiL applications for validation and verification in the V2X area. S.E.A. has over 40 employees working in Troisdorf, Germany.
measX GmbH & Co. KG
The engineers of measX have offered their experience and technical know-how in software development and engineering of complete test systems for over 20 years. We offer consulting services and turnkey systems for the acquisition, organization, management and evaluation of measurement data. Turnkey systems are optimally customized for your data and IT environment. This includes evaluation of the data to be processed and the supporting workflows as well as the data modeling, database design and creation of complete applications for the acquisition and evaluation of data. We use standard software from NI, such as DIAdem® and LabVIEW™, to create turnkey systems ranging from single workstation solutions to sophisticated applications for hundreds of users.