Support where you need it
We support you from the first installation of the software to the finished implementation and remain available to you for questions, expansion requests and training needs during continued use.
X-Crash maintenance
Regardless of whether the system must be adapted to new technical requirements or you would like to apply different regulations or consumer protection standards to your testing procedures : our crash specialists will be at your side to assist you as part of the maintenance contract .
If international legislation or regulations change, X-Crash will be adapted to these changes within the framework of the basic development work . As a service customer, you automatically receive the new updates and upgrades.
X-Crash hotline
Fast support by phone, fax and e-mail as well as the web-based "Ticketmaster" are fixed components of the X-Crash maintenance contract.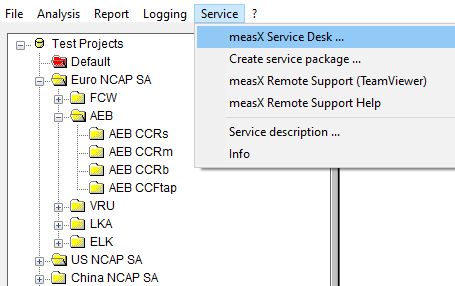 Web-based "ServiceDesk" system
Users can access the web-based "ServiceDesk" directly from the program to submit a request or report an error as well as for tracking the status of each individual ticket. Your benefit: maximum transparency.
X-Crash service
If necessary, we create analysis macros for you, solve automation problems or realize special functions, such as integration with your internal data management system. We will also assist you with important and exporting data. For example, we can support you in switching to ISO-MME data structures.
Of course, our experts will also support you on-site in the event of special questions.
X-Crash trainings
Users around the world profit from our trainings on X-Crash and special topics (Visual Basic Script and more). more ...>