Acoustic camera ACAM 100 with new API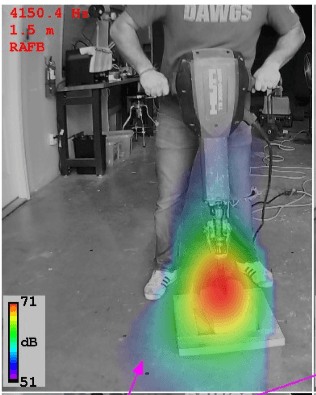 Sound sources can be reliably localized and analyzed with the ACAM 100 camera. With its new API (application programming interface), the potential users have been considerably expanded.
On the ACAM 100, sound immissions from 40 microphones are overlaid with images from an optical camera to make the source of the sound visible.
The new API allows programmatic parameterization of the ACAM, access to the raw data of the camera and microphones as well as the sound intensity matrix, which is calculated with a special beamforming method. Not only does this make differentiated quantitative analysis possible, the ACAM can now also be integrated into more complex test bench applications and combined with additional sensor signals.
The easy-to-operate camera is extremely versatile and can be used for long-term monitoring of systems and machines, vehicle tests (noise vibration harshness), reference measurements, quality controls and life cycle tests.
The API can be accessed from any programming language and is used by measX in test bench applications under LabVIEW and C.